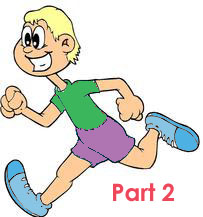 See the first instalment for introductory comments on what an appropriate warm-up game entails.
More warm-up games, by popular demand. Just the good ones this time, no examples of bad ones - hopefully you got the point last time. 😊
Da Bomb!

Equipment: 3 or 4 soft balls, approximately 30cm diameter.
Description: The ball is bad. You don't want the ball. If the ball touches you, then you have to take it. You can't give it back to the person who gave it to you. If you have the ball, then you need to give it to somebody else as quickly as you can. You can't throw the ball, or kick the ball. The ball can't leave your hand until you touch someone else with it.
If you are holding a ball when the music stops / whistle is blown, then you need to [scream as loud as you can] / [do 10 push-ups] / [do 10 star-jumps] / [run a lap of the oval] / [etc..].
Kids love this game, making them scream is a good one for birthday parties as it shows the parents how much fun they are having.
Freezers and Melter's

Choose 3 children to be the 'freezers', and 3 to be the 'melters'. It's the 'freezers' job to try and freeze everybody, and the 'melters' job to stop them.
If a freezer gets you, you need to freeze and be a statue (perhaps stretch up tall so the metlers can see you). You stay frozen until a melter comes and saves you by tagging you and saying 'melt'.
Extend the game by using different forms of locomotion.
Clumps

Students move around the room while the music is playing. When the music stops the teacher calls out a body part and a number (e.g. 7 knees). Students then need to make (e.g. 7 knees) touch as quickly as possible (they must touch each other, can't just stand in a group of 4!).
Younger students - use simple language like 'knees', 'bottoms', 'hands'. Older students can introduce muscle names like 'gluteus maximus', 'gastrocnemius'; or bones like 'patella', 'metacarpal', 'fema', 'ulna'.
Remember: We want everyone to be included! I use combinations that can include everyone - 7 knees can be done with 4 people (2 knees each, except for the last person who only puts one knee in), 5 people, 6 people, of 7 people (they all put one knee in each). Count the number of students before you start,so if you are calling out a body part that you only have one of, no one misses out (20 students you can use 4 bottoms, 5 bottoms, 2 bottoms, 10 bottoms, etc...)
Off Ground Tiggy

Equipment: Several objects scattered around the playing area that students can stand on.
Description: Another basic tiggy style game (see 'Basic Tag' in Part 1). In this example whislt a student is standing on and object, the tagger can't get them. Either keep the objects small so only one person can fit on top, or have a rule that only one person is allowed on at a time. You will also need a rule to get people off objects (see example in 'Shark Island' variation of 'Basic Tag' in Part 1).
Rats and Rabbits

Bit of a slower game for a hot day.
Students all pair up. One person is a Rat, the other a Rabbit. Rats are trying to get to the 'north' end, rabbits are trying to get to the south end. Students lie down on their stomach in two lines in the middle of the playing area, with their feet touching the centre line. If the teacher calls out 'rats' the the rats try to run to their end, whilst the rabbit tries to catch them. If the teacher calls 'rabbits', then the rabbits try to run to their end whilst the rats chase them. If your partner catches you, then swap places.
Chain Tiggy

Another slow one for a hot day.
Start with two taggers. The two taggers hold hands, and cannot let go. This is the first part of the chain.
Students need to avoid been touched by the chain. If the chain gets you, then you become the next link in the chain.
The game continues until all students are holding hands.
Same as last time, if you want to see more - Share this article on Facebook so I know you like it, and / or send a tweet to @gymnastics4hire.
Author: Gary Black, 27-Jan-2015